There Was A Soldier at the Edinburgh Fringe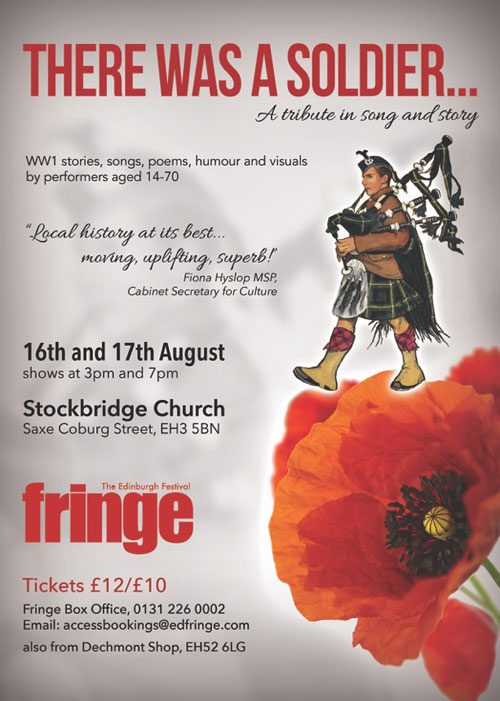 Posted: 15th August 2016
A show called There Was A Soldier takes place at the Edinburgh Fringe on August 16th & 17th.
This is an offshoot of Ian McCalman's Far Far from Ypres stage project, which came about after the discovery of letters from a WW1 soldier to the late aunt of Liz Reid. Liz and friend Mary Boylan put a version of the show together which was local to West Lothian, using the letters as a starting point, and discovered many local WW1 connections. Ian McCalman's original script was adapted, with his permission.
Many of the songs are the same, with five original ones, two of which were written by a Broxburn soldier in the trenches, in an old jotter which was sent to his family with his belongings after he was killed - actually really humorous considering the situation.
Taking part in the show are music groups Tryst, Cockleroy and Iolaire, and eleven talented teenagers who sing, play pipes or drum - all being ages with many who signed up for war. One of them, Sam (16), sings Black Is The Sun with such intensity that you'd swear he'd been there and experienced the gas for himself.
"Local history at its best - performers live these songs - moving, uplifting, superb!" (Fiona Hyslop, Culture Minister)