Far, Far From Ypres Stage Show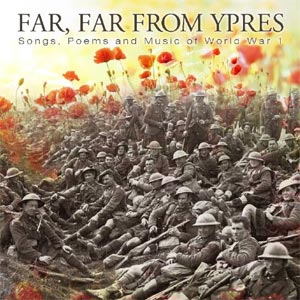 Posted:
Scottish Tour - 2018
The Far, Far From Ypres stage show, produced by Ian McCalman and with a huge cast of performers, will tour Scotland in 2018:
Sunday 5th August - Victoria Halls, Selkirk
Thursday 9th August - His Majesty's Theatre, Aberdeen
Wednesday 29th August - Corran Halls, Oban
Friday 31st August - Aros Centre, Portree, Skye
Saturday 1st September - Village Hall, Ullapool
Sunday 7th October - Whitehall Theatre, Dundee
Sunday 14th October - Albert Halls, Stirling
Sunday 21st October - Eden Court Theatre, Inverness
Sunday 28th October - Theatre Royal, Dumfries
Sunday 11th November - Usher Hall, Edinburgh
The stage show is based on songs recorded on the Far, Far From Ypres double CD.
The concert is narrated by BBC Radio Scotland presenter Iain Anderson and has attracted some of the leading lights in the folk scene. Those joining the Scotland 2018 tour will include Barbara Dickson, Siobhan Miller, Mairi MacInnes, Dick Gaughan, Ian McCalman, Iain Anderson, Professor Gary West, Stephen Quigg, Ian Bruce, Sangsters and other well-known faces in the Scottish folk scene. Peter Heywood operates the overhead slide projection.
Read more about the Far, Far From Ypres stage show on the McCalmans' website.
---
Edinburgh, Perth and Greenock shows - 2014
After selling out The Glasgow Royal Concert Hall at Celtic Connections 2014 and receiving two standing ovations in the emotionally charged main auditorium, this moving show was presented several times again in the year of Homecoming Scotland 2014. It was also in commemoration of the 100th Anniversary of the beginning of the so-called Great War of 1914-18.
The show was performed in August 2014 at The Queen's Hall, Edinburgh and Perth Concert Hall, and in October at the Beacon Arts Centre in Greenock.
The cast comprised Barbara Dickson, Phil Cunningham, Dick Gaughan, Siobhan Miller, Ian Bruce, Stephen Quigg, Gary West (pipes), Stevie Palmer, Mairi MacInnes (Gaelic song), John Blackwood, Fiona Forbes, Anne Murray, George Archibald, Charlie Milne, Jim Weatherston, May Weatherston, Peter McCulloch, Kenny MacDonald, Gordon Stewart, Norman Gore (snare drum), Donald Hay (snare drum), Brian Miller (guitar), Tom Ward (concertina), Dennis Wilson, Carol Prior and Allan Prior.
The narrator was BBC Radio Scotland's Iain Anderson, Peter Heywood took care of graphic projection and Sandy Forbes was sound advisor. Ian McCalman, who instigated the production and wrote the script, directed and Ian Green took care of promotion.
---
Celtic Connections, Glasgow - January 2014
The latest sell-out concert of Far, Far From Ypres - the stage show which arose out of the double album of the same title, Songs Poems And Music Of World War I - took place in the main auditorium of the Glasgow Royal Concert Hall at Celtic Connections 2014 on 17th January 2014.
The cast of twenty-six included Barbara Dickson, Phil Cunningham and Dick Gaughan and was brilliantly produced by Ian McCalman. The entire cast rose to the occasion and gave stunning performances which even exceeded those of 2012. Narration was by BBC radio presenter Iain Anderson and the overhead projection was by Peter Heywood.
"Congratulations to you and all those involved in this unforgettable production…" (Fiona Hyslop MSP, Cabinet Secretary for Culture)
"What a moving concert and magnificent evening…" (Norman Drummond, Chairman of Parliamentary WW1 Commemoration Panel)
"Overwhelming! This show should be seen by everyone. It was a beautifully crafted show. Come back anytime…" (Donald Shaw, Celtic Connections Director)
"It was an incredibly powerful performance…" (Carole Robinson, Scottish Government Culture Division)
"Superb, two standing ovations says it all… (Alistair Findlay)
"Truly fantastic… I thought the entire production was sensational…" (Fraser McCreadie)
"It was an honour to be present at this wonderful event. You could have heard a pin drop during the performance and the audience showed its appreciation with a standing and resounding ovation at the end." (Ian Green)
---
The show features the large screen projection of relevant images throughout the evening, enhancing greatly the audience's understanding of the story unfolding before them. The format of the evening takes the form of two fifty-minute halves with an interval.
It has a cast of 'folk singing stars', who remain on stage throughout the performance, singing the 'trench', 'marching' and Music Hall songs of the time. From that chorus, groups and soloists come to the middle of the stage and perform songs, both contemporary and traditional, about the Great War.
The narrator, Iain Anderson, brilliantly links the songs with stories about the hero of the show, Jimmy MacDonald, who was born in "any village in Scotland". It tells of Jimmy's recruitment and training then follows his journey to the Somme and back to Scotland.
It would not be a Scottish tragedy without laughter, so there are also stories of humour and joy that take this production well away from the path of unremitting gloom.
Written and directed by Ian McCalman, the production features 26 folk stars. Previous performances have included Dick Gaughan, Iain Anderson, Barbara Dickson, Sangsters, Ian Bruce, Siobhan Miller, Ian McCalman, Stevie Palmer, Stephen Quigg, Ragged Glory, Sineag MacIntyre, Soopna, Donald Hay, Drew Talbot, Dennis Wilson, Brian Miller, Tom Ward and a host of others.
Ian McCalman wishes to encourage the use of the script by schools and colleges for educational purposes.

---
The Queen's Hall, Edinburgh - August 2012
Far, Far From Ypres - From A Scottish Perspective was presented in The Queen's Hall, Edinburgh on Thursday 16th August 2012.
The cast for this concert included Barbara Dickson, Siobhan Miller, Dick Gaughan, Ian Bruce, Nick Keir, Stevie Palmer, Stephen Quigg, Donald Hay, Brian Miller and Tom Ward, with groups Sangsters, Soopna and Ragged Glory, plus Iain Anderson of BBC Radio Scotland. Peter Heywood provided overhead projection.
"an inspiringly convivial experience, where the audience joined the performers in choruses that echoed into the deep spaces of the hall… a standing ovation raised the roof of the Queen's Hall for several minutes after the show had finished. It was a stirring end to a night honouring a terrible tragedy, one that left the entire audience moved and sombre, but strangely elated." (Edinburgh Fringe concert review)
---
Celtic Connections, Glasgow - January 2012
Far, Far From Ypres - From A Scottish Perspective was presented in The Strathclyde Suite of the Glasgow Royal Concert Hall at the Celtic Connections festival on Saturday 21st January 2012. The show was a massive success.
It was sold out in advance and many people remarked that it was one of the most moving stage presentations they had ever witnessed. Members of the audience were visibly moved and at the end of the second half there was a genuine standing ovation.
Ian McCalman is highly complimented for his superb work as researcher and producer, while Peter Heywood's overhead projection was well chosen and added greatly to the excellent stage performances of a cast of many, including Barbara Dickson, Dick Gaughan and narrator Iain Anderson. Everyone rose to the occasion and made this a very memorable event.
Far, Far From Ypres was originally one of four popular themed sections within the Greentrax 25th Anniversary Concert in October 2011 at The Queen's Hall, Edinburgh.
"Powerful solos, robust melody and beautiful harmony, told stories of excitement and hope, suffering and endurance, humour and escapism, fear and disillusionment, in the words of those involved in the horrors of the Western Front." (STV)