The Poozies - Back On The Road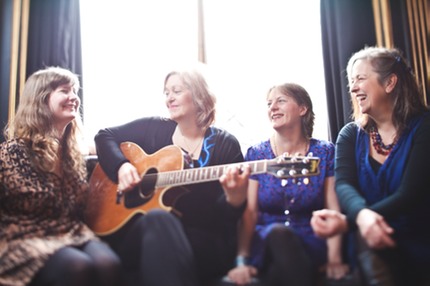 Posted: 8th March 2016
​The Poozies are embarking on another tour in March 2016 around England and the Isle Of Man - see all dates at their website. This will be an especially poignant tour for them, as at the end they sadly say goodbye to Sally and Mairearad.
Sally Barker is having a great time touring with the reformed group Fotheringay as well as doing numerous solo gigs in and around Leicester, many for the charity LOROS.
Mairearad Green has just finished her solo album about the Summer Isles, has moved back home to the Highlands and is living the idyllic lifestyle of peace and tranquility.
Mary Macmaster has hit the charts with her star-studded project Songs Of Separation, a beautiful collection of traditional and self-penned songs recorded in the fairy-tale setting of the Isle of Eigg in the Scottish Inner Hebrides.
Eilidh Shaw has been touring in Denmark with world/roots outfit Himmerland, depping in Iceland with Dàimh, running the epic annual festival Fèis na Mara and has also set up a new club called the Arisaig Acoustic Music Club.