April 2016 News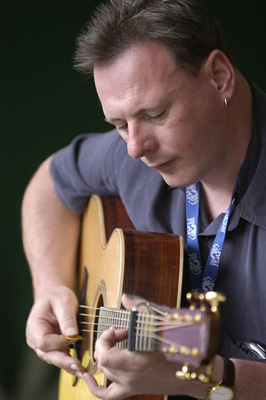 Posted: 11th April 2016
Tony McManus was on tour in Australia recently and the demand for his albums was so great that he sold out before the tour ended. Thankfully our Australian distributor Planet Distribution was able to top him up. See Tony's current tour dates.
(photo Tony McManus / Edmonton Festival)
Alex Hodgson is off to New Zealand again in 2017. In the meantime his annual concert in the Brunton Theatre, Musselburgh on 27th August 2016 is booked and likely to be sold out well in advance as always. See Alex's website.
Greentrax is currently working on a compilation album of The Edinburgh City Police Pipe Band from their LPs of the 1960s and 70s, when they were at their peak as World Pipe Band Champions. In one year alone they won thirteen First Prizes and were second in the remaining two competitions. The compilation, selected by Pipe Major Iain McLeod, is from their albums March Of The Pipers (1962), The Edinburgh City Police Pipe Band (1965), The Piper's Parade (1967), Champions Of The World (1971) and The Capital Parade (1975).
Also being assembled is Scottish Tradition Series vol 27 - Tiree Songs and Music (a working title), from The School Of Scottish Studies archives. Editing and mastering is currently taking place.
To celebrate the 30th Anniversary of Greentrax Recordings in 2016, Ian Green is at present selecting tracks from the many 'special projects' the label has undertaken over the years, including Gaelic Women, Scots Women, the three Tapestry albums, The Nineties Collection, Gentle Giants, For Freedom Alone, The Flooers O' The Forest, the Eric Bogle Box Set, Far, Far From Ypres and many more.