Haddington Pipe Band 2016 Calendar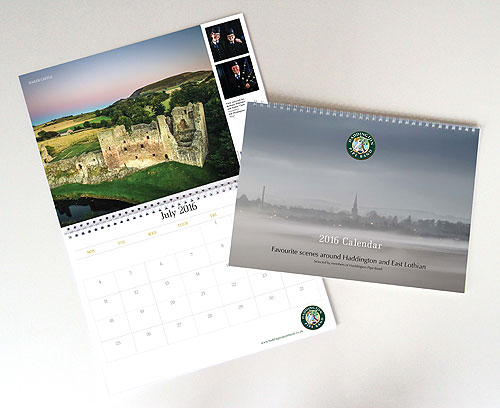 Posted: 20th October 2015
Haddington Pipe Band has again created a calendar for the coming year, with the theme of Favourite Scenes Around Haddington & East Lothian.
The calendar, which will be available from late October 2015, features a series of stunning photos of the county captured by top-grade photographers, with the views selected by members of the band. The front cover features an eerily atmospheric photo by Rod Hanchard-Goodwin of Haddington seen through mist, while the same photographer's beautiful image of the Garleton Hills and the Hopetoun Monument features as the photo for the month of May.
One of the most striking shots in the calendar is a photo of the Lammermuir Hills – resplendent in rich, deep purple – taken by the award-winning natural history and landscape photographer, Laurie Campbell, while local photographer Garry Menzies contributes two shots: the laburnum arch in St Mary's Pleasance and a snow-covered Preston Mill at East Linton.
Another local photographer, Adam Cochrane, has no less than five photos in the calendar. The calendar opens in January with his sunrise at Traprain Law image, while his other works are of Seacliff Harbour, Hailes Castle, the Nungate Bridge and the River Tyne, and – as the back cover shot - an aerial view of Haddington.
Another equally memorable series of photos has been contributed by Sarah White, whose images are of Barns Ness Lighthouse, the Goblin Ha' at Yester Castle, Tantallon Castle and the Northern Lights, and St Mary's Church.
Complementing the scenic photography are portrait shots of pipe band members, all taken by Haddington-based professional photographer, Nick Callaghan, who has worked on all the band's calendars.
The band's chairman, Alastair Bruce, says:
"Once again, we are delighted to have been able to produce a calendar which we hope will be enjoyed by people close to home and much further afield. Of course, the calendar is a promotion for the band, but this year – with the many amazing scenic shots taken around East Lothian – we are also promoting the wonderful county in which we are fortunate enough to live and, in the band's case, play. We are very grateful to the superb photographers whose work is featured in the calendar. The quality of their photography is there for all to see, and this has been more than matched by their support for this project. The calendar is one of the band's key fundraising projects to help us to pay for uniforms, instruments and other band initiatives, and so we are extremely grateful to the many businesses who have sponsored and supported the production. Without their help, this initiative just wouldn't be practical or feasible and if possible, we would ask anyone who gets a copy of the calendar to support them in turn."
The calendar will be on sale for £5.00 at various shops, libraries and other outlets locally. It can also be purchased online, with details at the band's website: www.haddingtonpipeband.co.uk