Prestonpans School Children Perform at The Scottish Parliament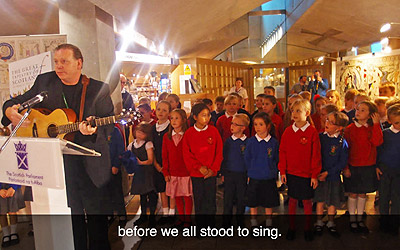 Posted: 8th September 2013
Infants and Primary School members of Prestonpans School sang The Toun o' Prestonpans along with Alex Hodgson, who wrote the song, at a reception at The Scottish Parliament on Tuesday 4th September. They were brilliant and brought the house down.
Several of the children present were involved in the recording of the song in 2012, and subsequently included on the album The Music And Song Of The Great Tapestry Of Scotland. The track represents the Tapestry panel Reformation - A School In Every Parish.
The Great Tapestry of Scotland is on exhibition in the main hall of the Parliament until 21st September 2013. The album is on sale in the Parliament shop and many other outlets, including this website.
See some music and pictures from the event here.