Greentrax Presented With Landmark Award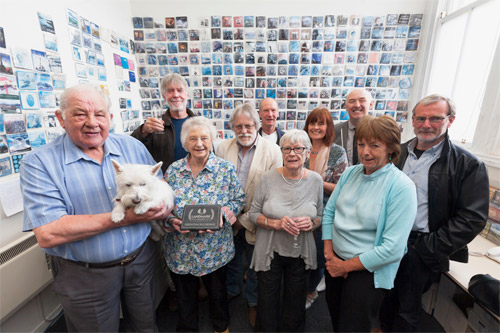 Posted: 13th June 2016
On Wednesday 8th June 2016, Ian Green was presented with the prestigious Hands Up For Trad Landmark Award by Simon Thoumire at the Greentrax office in Cockenzie. The Landmark Awards exist to record the amazing landmarks that Scottish cultural organisations reach - in the case of Greentrax, 30 years of top quality releases.
A number of guests were invited along to the presentation by Simon, which was celebrated with a glass or two of champagne. Present were Greentrax Director June Green, Ellen & Ian McCalman, Lesley & Dr John Barrow, Kate & Tom Ward, Allan MacDonald (photographer) and Hamish Moore who piped the guests into the Greentrax office.
Simon was most complimentary in his presentation speech and after a short reply by Ian a party followed. Not much work done at Greentrax that day!
Read more about the Greentrax award at the Landmark Awards website.