Eric Bogle at the Gallipoli Centenary 2015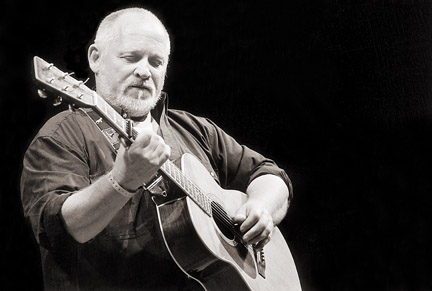 Posted: 19th May 2015
In April 2015 Eric Bogle was invited to the Gallipoli Centenary on Anzac Day and sang And The Band Played Waltzing Matilda at 4.40am to a large and appreciative gathering, of mainly Australians and of course the ghosts of all those boys he originally wrote the song for.
Eric described it as "a privilege…" and "a very moving and emotional experience…" and and he was delighted he had accepted the invitation from Battlefield Tours of Australia, who arranged the trip.
A few days before the anniversary, Ricky Ross presented a half hour programme on BBC Radio Scotland based on Eric's song And The Band Played… Eric was interviewed at length and guests included June Tabor and Archie Fisher.
An anniversary commemoration service arranged by Legion Scotland was held in Edinburgh Castle on 25th April and screened on the Castle Esplanade to enable the public to see it. The event including extracts from Eric's DVD, including his singing of And The Band Played… and All The Fine Young Men. This was reported on BBC TV and STV.
Eric Bogle was born in Peebles a few days after the D-Day landings in Normandy, followed shortly after by his twin sister Sandra. Eric later emigrated to Australia and in 1980, after various jobs and the success of his songs And The Band Played Waltzing Matilda and No Man's Land (aka Greenfields of France), he embarked on the perilous career of professional musician. A compulsive, almost obsessive songwriter for most his adult life, Eric has written many, many songs, some of which have pretty much become Australian, if not world classics of their particular genre. Possibly his best known song is And The Band Played Waltzing Matilda, which confirmed its status by appearing as a question in the Australian version of Trivial Pursuit!
Eric's songs have been recorded by Joan Baez, Mary Black, Jean Redpath MBE, June Tabor, Donovan, Billy Bragg, The Pogues, The Fureys and The Corries, to name but a few.
Eric has recorded numerous albums and a DVD, most of which are available on Greentrax Recordings, who license the albums from Eric for The World, except Australia and New Zealand. Eric has toured extensively in North America, the UK and Europe, plus of course Australia and New Zealand, and has appeared at every major folk and country music festival in Australia and around the world.
He has had many awards bestowed on him, including the Order of Australia Medal for services to the entertainment industry and a Peace Medal from the United Nations for his efforts, through music, to promote peace and racial harmony.
In Scotland he was recognized by The Scots Trad Awards and has been placed in their Hall of Fame. In a Celebrity Top 50 Songs Poll held in 2003, two of Eric's songs - And The Band Played… and No Man's Land were placed No 1 and 5 respectively, above international artists such as Donovan, John Lennon, Bob Dylan, Elvis Costello, Leonard Cohen, John Prine and many more.
Eric was recently invited to join The South Australian Music Hall of Fame, yet another to add to an already large list of honours Eric has received.
Eric's most recent album is a joint affair with buddy John Munro - A Toss Of The Coin - which along with his Live At Stoneyfell Winery DVD continue to sell well. Many of Eric's older albums, which were previously deleted, are now available direct from Greentrax only on special order.
The Melody Maker wrote of Eric, "Most of the best contemporary songs of the seventies were written by Eric Bogle". And that is only part of his success story!