Duncan McCrone - Resurrection Road (A Clydeside Carol)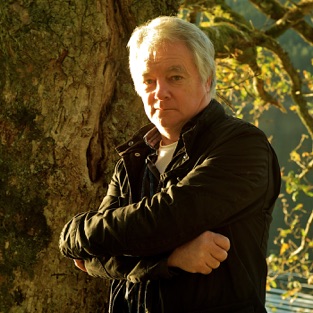 Posted: 21st November 2019
Play or download Resurrection Road on Apple Music or iTunes.
This single is taken from Duncan McCrone's acclaimed 2018 CD album Land Of Gold, and Greentrax is taking the unusual step of releasing the song as a Christmas single this month. The track includes special guest vocalist Rab Noakes and is being released by Greentrax as a single for Christmas 2019.
Duncan McCrone writes:
"To those of us lucky enough to be safe, warm and well-fed and with a roof over our heads, it seems unthinkable to be sleeping in a cold shop doorway or alley, alone with few if any friends and, often, no prospect of things improving. All of our cities are filled with men and women whose lives are a constant, miserable struggle, and whose deaths are often hardly mourned. Every year, though, Christmas comes around again, and decent, kind people notice the homeless a bit more, giving their time, their thoughts and often a bit more of their money to hide who have had a much worse ride through life than themselves. It adds to the general feeling of wellbeing and the sense of Christmas spirit. A fiver handed over, rather than just a pound or fifty pence; a community or church initiative to provide warm festive dinners for a few days; a pause to make human contact, even for a short while… and so on and so forth.
Then January arrives, and the festive season is over. The weather becomes colder still, the nights are darker, and for various domestic and economic reasons, the ranks of the homeless have swollen yet again. Sadly though, Christmas has cost everyone a fortune, and there isn't the spare cash to hand out, and folk just want to batten down the hatches and face down another uncertain year.
Glasgow, like other big cities, wasn't always like this, though. Back in the day, there was always poverty, of course, and squalid living conditions for those with no work or poorly-paid jobs. There was always unemployment and hardship, but often hope that things would improve. The city streets were always very festive at Christmas, and the atmosphere warm and, for the most part, unthreatening. Beggars plied their trade, and there was a roaring trade in cheap booze to help struggling folk on their way.
It was nothing like the feeling of hopelessness there is today, though."
Duncan McCrone and his co-writer and bandmate Cy Jack wrote their poignant Christmas carol Resurrection Road to gently point out that the problem of homelessness is around us all year round. Its alternative title is The Clydeside Carol and, while it's set in McCrone and Jack's hometown of Glasgow, it's appropriate to every city and large town around the country.
The track features a stand-out guest vocal from legendary Scottish singer-songwriter Rab Noakes, who sings lead on the second verse and shares backing vocals with Duncan and Cy, and also a beautiful instrumental version of In The Bleak Midwinter by star traditional musicians Chris Stout (fiddle) and Finlay Macdonald (low whistle).
A portion of the revenue from the download sales will go to the housing and homelessness charity Shelter.
Play or download Resurrection Road on Apple Music or iTunes.