'A Little Bird Blown Off Course' Shows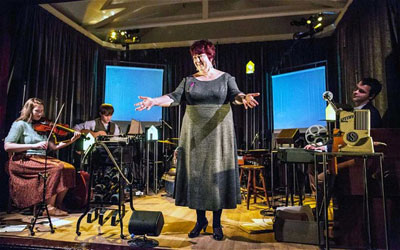 Posted: 12th November 2013
Celebrating the life and Gaelic song collection of Margaret Fay Shaw, A Little Bird Blown Off Course is a new piece of music-theatre by Fiona J Mackenzie, presented by the National Theatre of Scotland and Blas Festival in partnership with the National Trust For Scotland.
The musicians are Signy Jacobsdottir, Alistair Iain Paterson, Patsy Reid and Innes White, led by Fiona J Mackenzie, while the music director is Donald Shaw.
After a successful tour earlier this year where most of the shows were sell-outs, the show will take flight again at Celtic Connections, January 31st and February 1st 2014 at The Tron in Glasgow for National Theatre of Scotland.
There have been some excellent reviews in The Scotsman, The Guardian, The Telegraph and The Herald as well as a whole page feature in The Times. The show has been nominated in the Daily Record Scottish Gaelic Awards for Outstanding Contribution to Gaelic Culture.
The September 2013 Blas Festival tour ended on Canna.
Photo: National Theatre of Scotland