The Singing Sixties with Barbara Dickson and Friends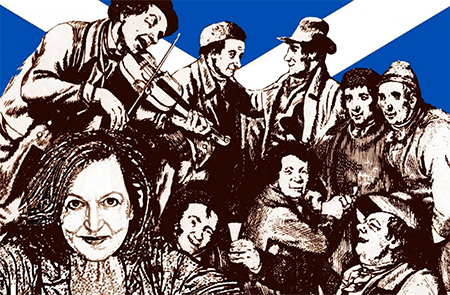 Posted: 27th March 2019
The Queen's Hall, Edinburgh - Monday 12th August 2019, 8:00pm
Featuring Barbara Dickson, Archie Fisher, Adam McNaughton, Dick Gaughan, Sangsters, Iain Rankin, the award-winning Far, Far From Ypres choir plus superb surprise guests.

Forty Scottish folk star singers, sitting at tables positioned on the stage, rolling back the years with a singing session of over twenty songs, based on the sessions of the 1960s. Party time!
The Singing Sixties celebrates the '60s folk choruses when Sandy Bell's Bar, and bars like it in Scotland, attracted world-famous musicians to join locals in mighty harmony.
If you were around then and can't remember that era, you were probably in Sandy Bell's bar with that lot, singing just for the joy of it. Many classic traditional and contemporary chorus songs will be reprised and you're invited to join in.
Cast
Barbara Dickson * Archie Fisher * Adam McNaughton * Dick Gaughan * Arthur Johnstone * Iain Anderson * Ian McCalman * Iain Rankin * Ian Bruce * Hamish Bayne * Gary West * Brian Miller * Stevie Palmer * Harry Cullen * Charlie Milne * George Archibald * May Weatherston * Jim Weatherston * Allan Prior * Carole Prior * Andy Ramage * Ann Murray * Fiona Forbes * John Barrow * Ann O'Toole * Ann Allan * Bill Hill * Cass (Gordon) Stewart * John Allan * Dennis Wilson * Kenny McDonald * Linda Wilson * Morag Dunbar * Norman Gore * Tom Ward * Siobhan Miller (subject to availability)
Songs planned
30 Foot Trailer * The Broom O' The Cowdenknowes * Her Father Didn't Like Me Anyway * Together Forever * Call On Me * Lancashire Lads * The Ploughboy Lads * Da Doo Ron Ron * Sandy Bells Man * Cushie Butterfield * Jeely Piece Song * Early Morning Rain * I'll Lay Ye Doon Love * Lesson Too Late For The Learning * Star O' The Bar * Busk Busk Bonnie Lassie * Everything's Fine Right Now * Working On The New Railroad * Sleepy Toon * Three Score And Ten * Yellow On The Broom * Doon In The Wee Room * Freedom Come All Ye