Tannahill Weavers Tour Dates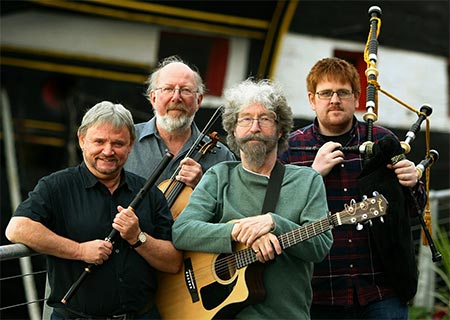 Posted: 25th September 2017
​The Tannahill Weavers continue their busy performance schedule with tour dates in the USA in October 2017 and Germany, Belgium & Netherlands in November/December. In February and April 2018 they tour the UK. See the Tannahill Weavers complete tour dates on their website.
​The Tannahill Weavers are Roy Gullane, Phil Smillie, John Martin and Lorne MacDougall.
As they approach their 50th anniversary in 2018, the Tannahill Weavers are one of Scotland's premier traditional bands. Their diverse repertoire spans the centuries with fire-driven instrumentals, topical songs, and original ballads and lullabies. Their music demonstrates to old and young alike the rich and varied musical heritage of the Celtic people.
Over the years 'the Tannies' have been trailblazers for Scottish music, and their tight harmonies and powerful, inventive arrangements have won them fans from beyond the folk and Celtic music scenes. In 2011 the band was inducted into the Scottish Traditional Music Hall of Fame, and in 2014 they are joined by innovative piper Lorne MacDougall. Lorne comes with a high pedigree, having arranged and performed pipes for the Disney Pixar movie Brave, along with a long list of other accomplishments.