April 2017 News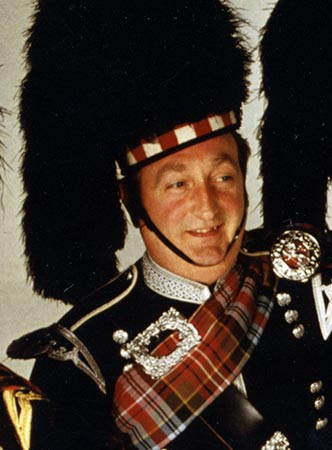 Posted: 27th April 2017
It is with sadness Ian Green reports that Pipe Major Iain McLeod of Edinburgh City Police Pipe Band (Lothian & Borders Pipe Band) passed away at the end of March, after a fall at home resulting in a hip fracture. Iain led the Band from 1959 until his retirement from the Police in 1978. Under his leadership the Band was one of the most universally recognised and successful pipe bands of all time, winning the World Pipe Band Championships five times. In 2016 Greentrax was proud to release a compilation album selected from the Band's LPs, Revisited - Pipe Major Iain McLeod's Selection. Iain was delighted with the release.
Matthew Tighe, a hugely talented young English fiddler, is currently recording his debut album under the guidance of producer Brian McNeill at Watercolour Studios. Also, the brilliant Gaelic singer Sineag Macintyre is to record her debut album for Greentrax later this year. Release information for both of these albums will follow shortly.
The Nick Keir 1953-2013 compilation reflecting the talents of the singer-songwriter is expected in stock soon. Ian Green says "This is truly a remarkable collection by any standard". The album is rarely off the Greentrax CD player and advance orders have been very brisk.