Auld Hat New Heids at Celtic Connections 2017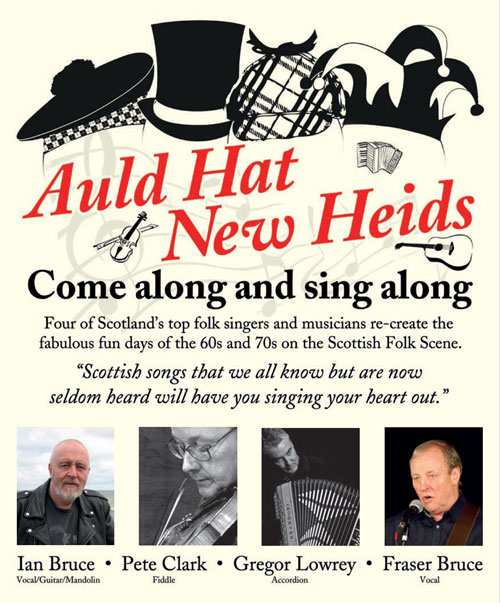 Posted: 14th November 2016
​Auld Hat New Heids - four of Scotland's top folk singers and musicians recreate the fabulous fun days of the 1960s and 70s on the Scottish Folk scene, with a performance at the 2017 Celtic Connections festival - 29th January at St Andrews In The Square, Glasgow.
Following what proved to be a very successful run of concerts earlier in the year, the quartet are delighted to announce this show at Celtic Connections. Their audiences have enjoyed the nostalgia of a trip back to the early days of the folk clubs of the 1960s and 70s and the group have received wonderful show reviews. They are now organising performances in 2017 and already have many commitments.
Come along and sing along!
"Scottish songs that we all know but are now seldom heard will have you singing your heart out…"
Pete Clark (fiddle) and Gregor Lowrey (accordion), Fraser Bruce (vocal) and Ian Bruce (vocal, guitar, mandolin).