Greentrax Recordings
---
August Release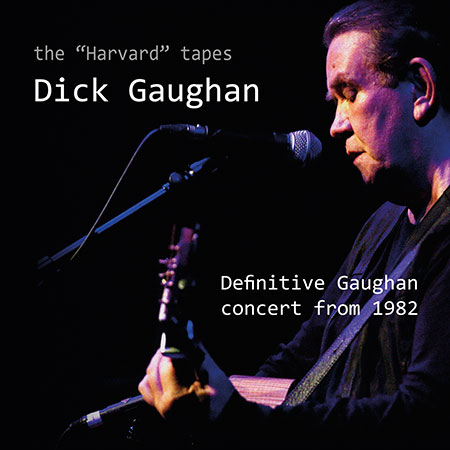 Dick Gaughan - The Harvard Tapes
A definitive Gaughan concert from 1982.
Dick Gaughan has been at the cutting edge of Scottish folk music for almost five decades. A guitarist, singer, songwriter, actor, musical director, arranger, record producer, engineer and goodness knows what else - he has been there and done it all. He is a brilliant singer with a passion in his wonderfully expressive voice which is allied to an amazing guitar technique which can leave you mesmerised.
Dick has been a professional musician and singer since 1970. He has recorded extensively and his album Handful of Earth on Topic Records was chosen by a critics' poll in fRoots as the Best Album of the 1980s. As well as a successful solo career, Dick was an early member of The Boys Of The Lough, the legendary Five Hand Reel and the founder member of the short-lived but quite extraordinary Clan Alba.
Early in 2019 Brian O'Donovan came across original tapes recorded live in 1982 in the Old Cambridge Baptist Church, next to Harvard University Campus in Cambridge, Massachusetts, USA. Brian sent a copy to Scotland to be used in any way to benefit Dick. Ian McCalman and Ian Green heard the recordings and agreed this was "vintage Dick Gaughan" and the recordings would make a wonderful live album - Dick approved wholeheartedly.
Some of Dick's all-time greats are on these Harvard tapes: Erin Go Bragh, Now Westlin Winds, Song For Ireland, Your Daughters and Your Sons, The Worker's Song, a three-reel instrumental and three bonus tracks. The Freedom Come All Ye track includes the late great Johnny Cunningham accompanying Dick, on fiddle.
This is an album not to be missed, and even Dick regards The Harvard Tapes as possibly the best live recordings of himself ever. This album is a quite remarkable collection and is Dick's seventh album for Greentrax.
Dick Gaughan is currently unable to tour due to his recovery from a stroke - a large royalty from this album goes to him.
PRE-ORDER for despatch as soon as available
---
July Release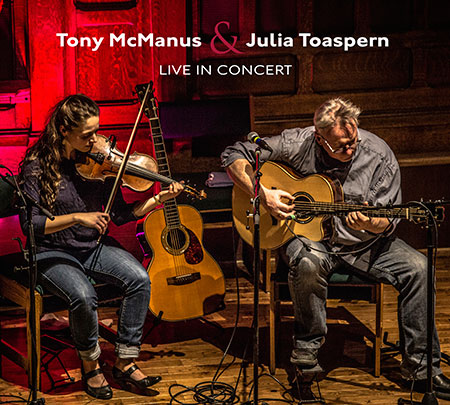 Tony McManus and Julia Toaspern - Live In Concert
Tony McManus is the leading Celtic guitarist worldwide and has been listed as one of the 50 transcendental guitarists of all time by Guitar Player Magazine. While Tony is known as a soloist, his frequent collaborations with diverse musicians have always been a significant part of his work. He has recorded several albums for Greentrax.
Julia Toaspern is a multi-talented musician from Berlin who combines classical training on violin and voice with a wide interest in genres such as jazz, baroque and traditional music. She has released two albums of original songs and performed in both classical and singer-songwriter modes on both sides of the Atlantic. On top of all this her skills as a guitarist are prodigious and make an exciting fit with Tony's work.
Their twin guitar treatment of traditional music is unique and each supports the other in exploring the harmonic possibilities of these old, and not so old, tunes.
They recorded this live album on a German tour in early 2019.
NOW IN STOCK for immediate despatch
---
Latest News
Edinburgh Festival Fringe shows: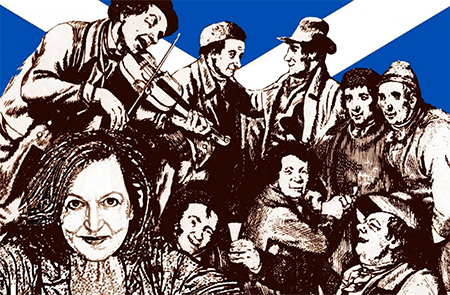 The Singing Sixties with Barbara Dickson and Friends celebrates the 1960s folk choruses when Sandy Bell's Bar, and bars like it in Scotland, attracted world-famous musicians to join locals in mighty harmony. Book tickets here for The Queen's Hall, Edinburgh on Monday 12th August.
Singer-songwriter Iain Rankin, who will perform with The Singing Sixties cast, is also doing a solo show at the Acoustic Music Centre (book tickets here) on Friday 16th August.
​The group Rankin File, featuring the songs of Iain Rankin, celebrate their 50th anniversary in 2019 of their formation in 1969. In recognition of the anniversary, Brack'n'File are performing an hour-long show of Iain's songs at the Acoustic Music Centre (book tickets here) on Monday 19th August.
Greentrax has had a busy time in 2019 with new releases:
Christine Kydd - Shift and Change: excellent reviews and Christine is selling copies at her many gigs.
Malinky - Handsel: double CD of new recordings (including guest singers) and selected tracks from previous albums. Malinky at their stunning best, includes tracks by Karine Polwart.
Dougie MacKenzie with Brian Miller - Along The Way: great feedback, a wee gem of an album.
Alexander McCall Smith and James Ross - These Are The Hands: with Michelle Burke and Kathleen MacInnes sharing the vocals. Outstanding piece by Jim Gilchrist in The Scotsman. Two immense pairings.
Coming soon: John Campbell Munro – The Kelly Collection: Eric Bogle's former touring buddy. Songs of Ned Kelly and The Kelly Gang of Australia recorded shortly before John's death. John was not only a talented musician but also a fine songwriter.
---
Deletions, Overstocks & Limited Supply titles @ £6.00 / £10.00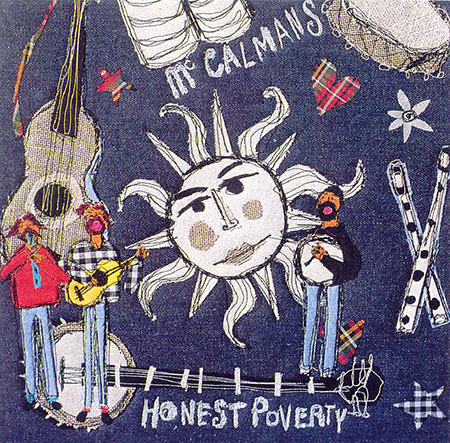 We still have titles available at special prices for a limited time only. Artists and compilation albums include:
The Cottars
The Occasionals
Paul Herron
Ian Bruce and Ian Walker
Barbara Dickson
Rua Macmillan
Frankie Gavin, Rick Epping & Tim Edey
Chris Stout Quintet
La Sonera Calaveras
Hamish Moore & Dick Lee
Eric Bogle
Malinky
The McCalmans
Rob MacKillop
The Easy Club
Sangsters
Heather Heywood
Robin Laing
Our bestselling Far, Far From Ypres CD & DVD titles are still available as a Special Offer set for £25.00
see deletion offer titles - £6.00
see overstock offer titles - £6.00
see limited supply offer titles - £10.00
---
Our Top Titles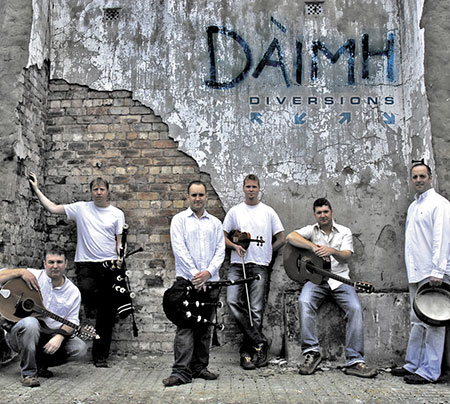 our Top 20 Best Sellers in 2018
Featuring albums from Duncan McCrone, AC Weir, Nick Keir, The McCalmans, Tony McManus, Barbara Dickson, Rura, Robin Laing, Daimh, Kathleen MacInnes and Eric Bogle.
Bestselling compilations or project albums included Far, Far From Ypres, Scotland's Voices, Greentrax 30th Anniversary Collection, Celtic Airs And Reflective Melodies, Celtic Women From Scotland, Sandy Bell's Ceilidh and A Highland Journey.
Our All Time Top 20 list includes albums from Fiddlers' Bid, Donnie Munro, Gordon Duncan, Salsa Celtica, Dick Gaughan, Shooglenifty, Peatbog Faeries, Catherine-Ann MacPhee and Aly Bain.
---
Ian Green & The Greentrax Team
Order online at Greentrax.com using your credit/debit card or your PayPal account.
Download the Greentrax full colour catalogue (pdf) showing releases to July 2018. We also provide a text-based catalogue (pdf).
Our transactions are processed by trusted services WorldPay and PayPal. You've previously subscribed through our website or directly with us.
Visit us on Facebook - your feedback is welcome. Please comment or drop us an email: info@greentrax.com
Greentrax Recordings Ltd, Cockenzie Business Centre, Edinburgh Road, Cockenzie, East Lothian EH32 0XL Scotland, UK